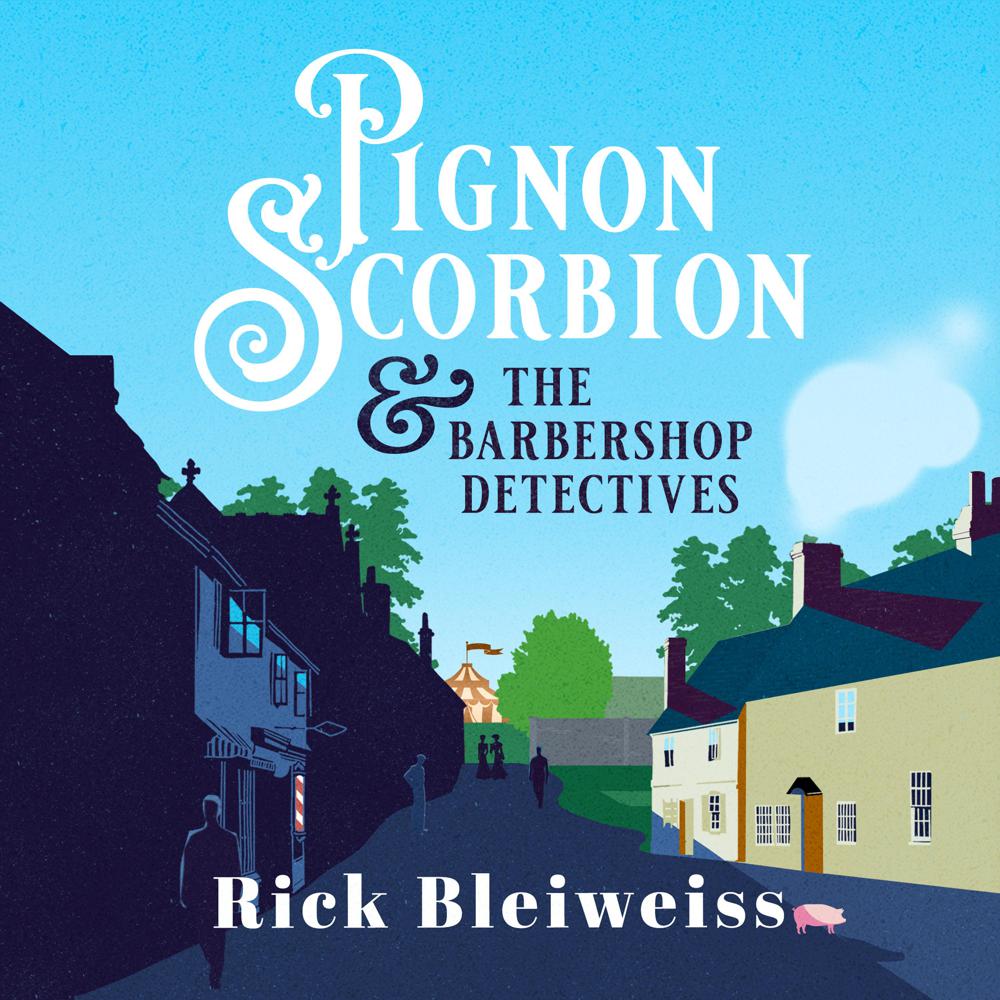 Pignon Scorbion & the Barbershop Detectives
Author

Rick Bleiweiss

Narrator

Christopher Toyne

Publisher

Blackstone Publishing

Run Time

9 hours and 29 minutes

Format

Audio
Listen to a sample
What to expect
For fans of Sherlock Holmes and Agatha Christie's Hercule Poirot, author Rick Bleiweiss's quirky new detective and ensemble cast of characters set against the backdrop of small-town England in the 1910s will feel both comfortingly familiar and thrillingly new.
The year is 1910, and in the small and seemingly sleepy English market town of Haxford, there's a new police Chief Inspector. At first, the dapper and unflappable Pignon Scorbion strikes something of an odd figure among the locals, who don't see a need for such an exacting investigator. But it isn't long before Haxford finds itself very much in need of a detective.
Luckily, Scorbion and the local barber are old acquaintances, and the barbershop employs a cast of memorable characters who—together with an aspiring young ace reporter for the local Morning News—are nothing less than enthralled by the enigmatic new police Chief Inspector.
Investigating a trio of crimes whose origins span three continents and half a century, Pignon Scorbion and his "tonsorial sleuths" interview a parade of interested parties, but with every apparent clue, new surprises come to light. And just as it seems nothing can derail Scorbion's cool head and almost unerring nose for deduction, in walks Thelma Smith—dazzling, whip-smart, and newly single.
Has Pignon Scorbion finally met his match?
Critics Review
"Rick Bleiweiss's Pignon Scorbion & the Barbershop Detectives has quirky, wonderful characters and all the elements of a great (and fun) detective story. I totally loved reading this novel!"

Heather Graham, New York Times bestselling author

"Bleiwiess's debut novel is sure to delight fans of traditional mystery. The novel harkens back to the Golden Age of mystery fiction, and Pignon Scorbion is a detective comparable to Hercule Poirot. His unlikely group of 'deputies' at the barbershop brings a fresh perspective to this fascinating mystery. I look forward to the next in the series!"

Amanda Flower, Agatha Award–winning & USA Today bestselling author

"Pignon Scorbion & the Barbershop Detectives by Rick Bleiweiss is a delightful mystery filled with twists and turns. Detective Inspector Scorbion is a charming protagonist, and his barbershop detectives are a delight. I'm already looking forward to the next case."

Shelley Shepard Gray, New York Times and USA Today bestselling author

"Channeling a time of yore, and brilliantly ventriloquizing voices of a bygone era, debut crime novelist Rick Bleiweiss's Pignon Scorbion & the Barbershop Detectives hurls us back over a century to the fictional town of Haxford, England, to delight us with a sophisticated series of mysteries that evokes masters of the 'cozy' craft in the fin de siècle, revivifying their timelessly seductive sleuthing methods and bringing them startlingly back to life. There's a wonderful prestidigitation in the writing and how it veneers an ancient period with a three-dimensional verisimilitude. Charmingly, and improbably, set in a barbershop, Bleiweiss's Chief Inspector Pignon Scorbion is a true original, a private eye cast in the mold of Poirot and Holmes with a touch of his own sui generis foppishness, cunning, and cerebrally deductive crime-solving. Once the opening case of a disputed paternity jumpstarts a concatenation of cases, the novel speeds along at a page-blurring pace, always returning to the barbershop where a colorful cast of amateur sleuths aid Scorbion in his relentless quest for the truth. Rich in period characters, interlarded with deft twists and hairpin turns in its unfolding, fans nostalgic for the old-fashioned, but never outdated, whodunit will revel in this shimmering recreation of the genre and will no doubt be treated to a veritable cataract of Inspector Scorbion books in the years to come."

Rex Pickett, New York Times bestselling author of Sideways

"Bleiweiss's novel is a worthy addition in the tradition of Conan Doyle and Christie. Holmes and Poirot, please make room for Pignon Scorbion."

Reed Farrel Coleman, New York Times bestselling author of What You Break

"It's adorable. I frequently laughed out loud while also envying Rick's impeccable plotting. Hats off to him and his merry band of solvers. A superbly structured detective story in its own right, Pignon Scorbion & the Barbershop Detectives is also a respectful, affectionate, and frequently very funny tribute to classic British detective fiction. It just might become a classic, itself."

Nancy Pickard, New York Times bestselling and award-winning author of The Scent of Rain and Lightning
Subscribe to our newsletter
Sign up to get tailored content recommendations, product updates and info on new releases. Your data is your own: we commit to protect your data and respect your privacy.