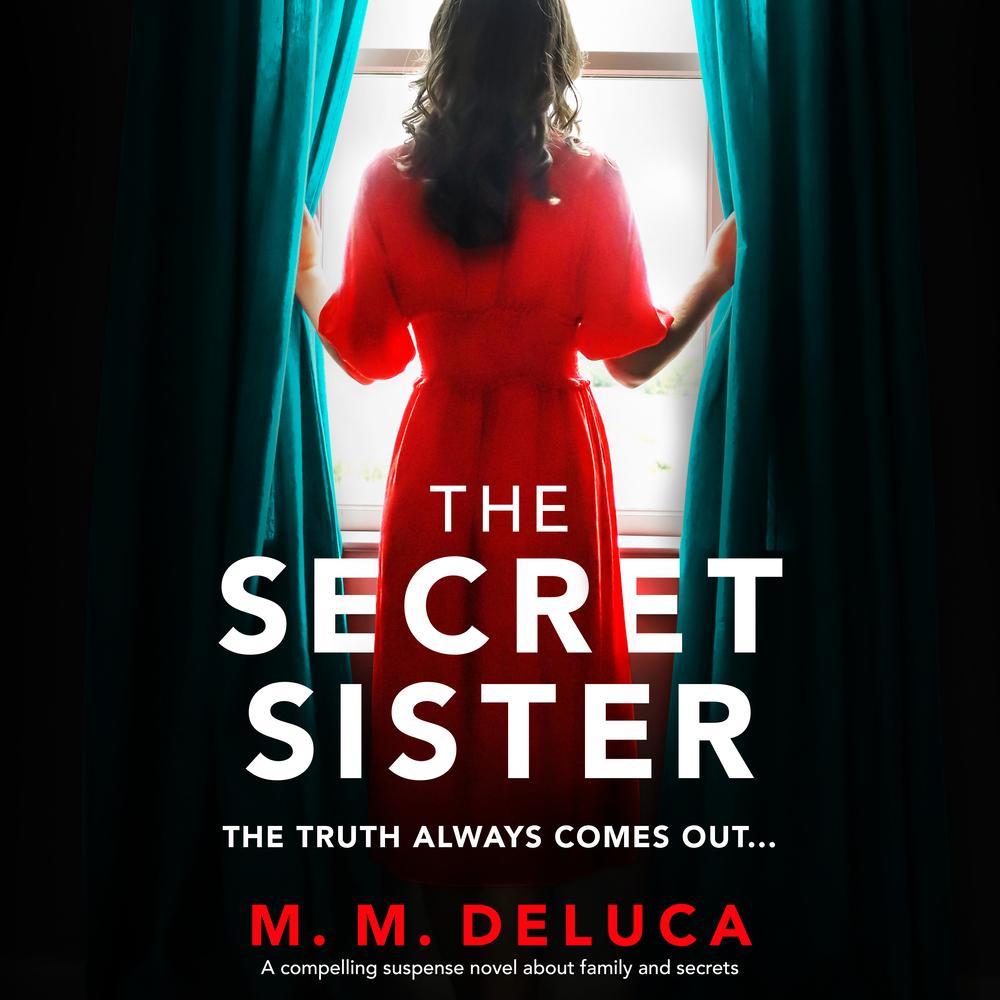 The Secret Sister
Author

M. M. DeLuca

Narrator

Jessica Maston

Publisher

Canelo

Run Time

9 hours and 22 minutes

Format

x-book®

Genre

Crime and mystery fiction, Crime and mystery: private investigator / amateur detectives, Crime and mystery: women sleuths, Fiction and Related items, Narrative theme: Love and relationships, Narrative theme: Social issues, Psychological thriller, Relationships: friends / peer groups, Sociology: family and relationships, Student life, Thriller / suspense fiction.
Listen to a sample
What to expect
How far would you go for family?
Anna's done bad things before. Neglected and unloved as a child, she had to do whatever it took to keep herself and her little sister, Birdie, safe. But the worst thing she's ever done is let her sister walk out of a diner when they were teenagers. She would never see her sister again.
Years later, and Anna is a new person. After a whirlwind romance, she's married handsome, successful, and generous Guy. She has a steady job and a new life of comfort. Things seem perfect.
But she hasn't told her husband about her dark past or about Birdie, that she's still looking for her. It's not about his too-perfect veneer, or her suspicion that he flirts with other women. It's that he has a complicated past and family secrets, too. Secrets that might be more entwined with hers than he knows.
After all this time, one thing about Anna remains the same. There's nothing she wouldn't do for her sister. And when she finds out who's kept them apart for all these years, there will be hell to pay.
A completely addictive, dark and eye-opening novel about what people hide behind closed doors, perfect for your next book club pick. Fans of Megan Miranda and Shari Lapena will love The Secret Sister.
Read what everyone is saying about The Secret Sister…
'Okay, I was totally blown away by this book. I thought it was going to be your run-of-the-mill mystery… Wow, I was wrong. This is an amazingly written book. If you think you can figure it out, well good luck to you… I will be bringing this book up every chance I get. Great story!!!!' NetGalley Reviewer, ⭐⭐⭐⭐⭐
'A heart-wrenching clash of past and present which is not for the faint-hearted. It is rare for a book to make you feel so many strong emotions… Captivating and intriguing… I couldn't put the book down… This has been the most memorable book I have read in a long time.' Goodreads Reviewer, ⭐⭐⭐⭐⭐
'This novel is one you cannot put down! I put aside all my work so I could binge it in a day. A gripping story… With many twists and turns, this novel kept me on edge and guessing till the end.' NetGalley Reviewer, ⭐⭐⭐⭐⭐
'Crazy good. This story tells of an incredible bond between twin sisters who end up in the care system. Ups and downs throughout and an absolutely heartbreaking ending. I loved it.' NetGalley Reviewer, ⭐⭐⭐⭐⭐
'Utterly compulsive reading. I found the subject matter harrowing but so well written and well researched… The story of Anna and her twin sister Birdie broke my heart… I can highly recommend it.' NetGalley Reviewer, ⭐⭐⭐⭐⭐
'Ooo this one definitely had a twist that I was not expecting! Go ahead and read this one for yourself because trust me it will keep you guessing until the very end. I loved it! Writing style was fantastic as well.' NetGalley Reviewer, ⭐⭐⭐⭐⭐
'This book had such a raw storyline. I really enjoyed it. Would recommend this to every person who asked me.' NetGalley Reviewer, ⭐⭐⭐⭐⭐
'Really enjoyed this quick read… It did not end how I expected which left me both surprised and satisfied…. Would recommend!' Goodreads Reviewer, ⭐⭐⭐⭐⭐
'This book is a very good read… The author builds tension that grows throughout the book and you find yourself unable to put the book down. I would definitely recommend this book.' Goodreads Reviewer, ⭐⭐⭐⭐⭐
Subscribe to our newsletter
Sign up to get tailored content recommendations, product updates and info on new releases. Your data is your own: we commit to protect your data and respect your privacy.