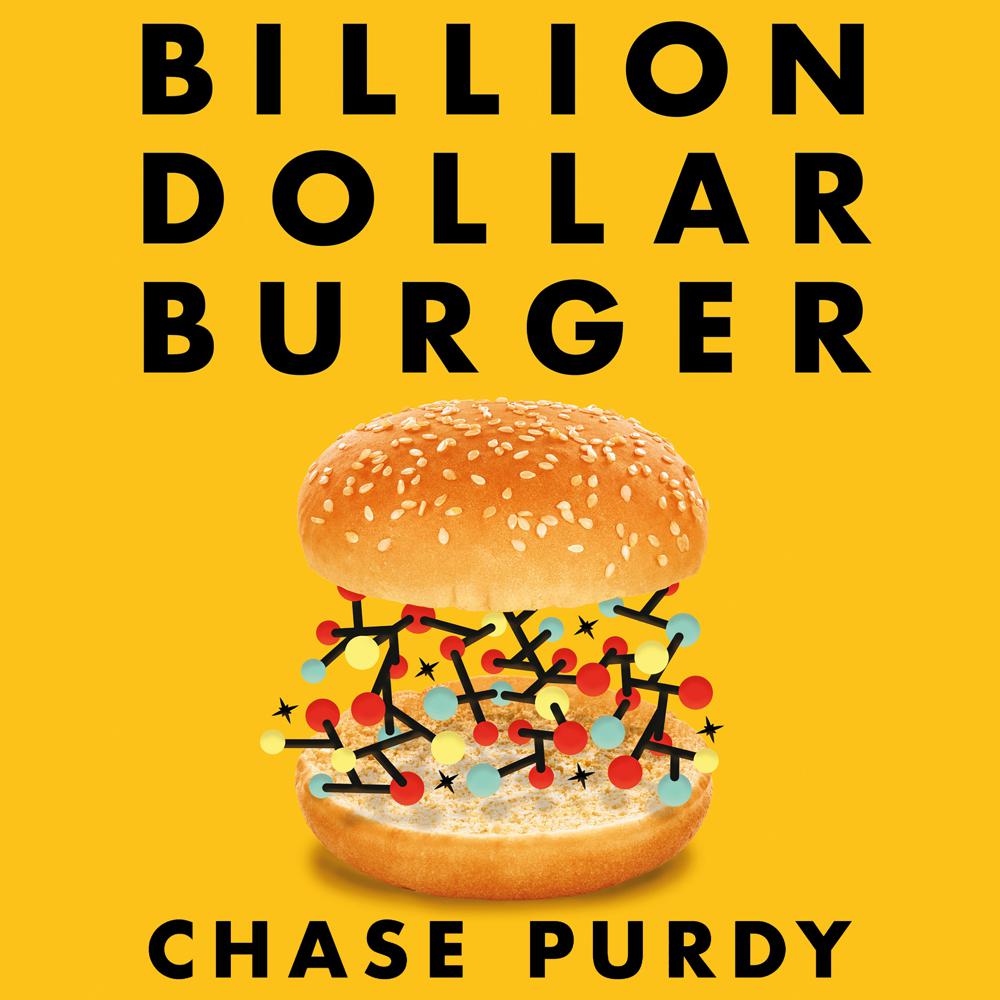 Billion Dollar Burger
Author

Chase Purdy

Narrator

Chase Purdy

Publisher

Little, Brown Book Group

Run Time

6 hours and 24 minutes

Format

Audio

Genre

Biography: business and industry, Biography: science, technology and medicine, Business and the environment; 'green' approaches to business, Business innovation, Cookery / food by ingredient: meat and game, Disruptive innovation, Food and beverage processing and engineering, Food and beverage technology, Food law, Impact of science and technology on society, Pollution and threats to the environment, Vegan Cookery and veganism, Vegetarian Cookery and vegetarianism.
Listen to a sample
What to expect
A fast-paced, gripping insider account of the entrepreneurs and renegades racing to bring lab-grown meat to the world.
The trillion-dollar meat industry is one of our greatest environmental hazards; it pollutes more than all the world's fossil-fuel-powered cars. Global animal agriculture is responsible for deforestation, soil erosion and more emissions than air travel, paper mills and coal mining combined. It also depends on the slaughter of more than 60 billion animals per year, a number that is only increasing as the global appetite for meat swells. The whole world seems to be sleepwalking into a food crisis.
But a band of doctors, scientists, activists and entrepreneurs have been racing to end animal agriculture as we know it, hoping to fulfill a dream of creating meat without ever having to kill an animal. This is the story of a group of seven vegans quietly working to solve one the most pressing issues we face today, creating the biggest upheaval to the food business in decades along the way.
In Billion Dollar Burger, Chase Purdy explores the companies at the cutting edge of the nascent food technology sector, from polarizing activist-turned-tech CEO Josh Tetrick to lobbyists and regulators on both sides of the issue. Billion Dollar Burger follows the people fighting to upend our food system as they butt up against the entrenched interests fighting viciously to stop them. It will take readers on a truly global journey from Silicon Valley to China, by way of Israel and the UK.
The stakes are monumentally high: cell-cultured meat is the best hope for sustainable food production, a key to fighting climate change, a gold mine for the companies that make it happen and an existential threat for the farmers and meatpackers that make our meat today.
Critics Review
A thorough, thoughtful dive into the revolution coming for our plates. I learned so much

A wild ride to the far horizon of our food system. Chase Purdy breaks important new ground in this gripping account about the innovators, activists and big-money investors who are reinventing meat as we know it. Not only are they changing the world – they're doing it a lot faster than you think

This is a fast-paced, early peek into what will soon be the topic at dinner for the next two decades: lab-grown meat. What do we call it, is it good, should I eat it? Read this and get ahead of the curve

Billion Dollar Burger is a journalistic feat, offering us the first real, behind-the-scenes look at the wild world of vegans, scientists and venture capitalists racing to upend our plates. A thoughtful, entertaining, well-researched and essential book

Can humanity move beyond the slaughterhouse? Billion Dollar Burger is a compulsive and well-researched account of the scientists, entrepreneurs and activists trying to save the world through high-tech meat

A deeply reported account of the science, politics, and personalities behind cell-cultured meat that every eater needs to read. Chase Purdy brings the stuff of science fiction to life in this fascinating book
Subscribe to our newsletter
Sign up to get tailored content recommendations, product updates and info on new releases. Your data is your own: we commit to protect your data and respect your privacy.