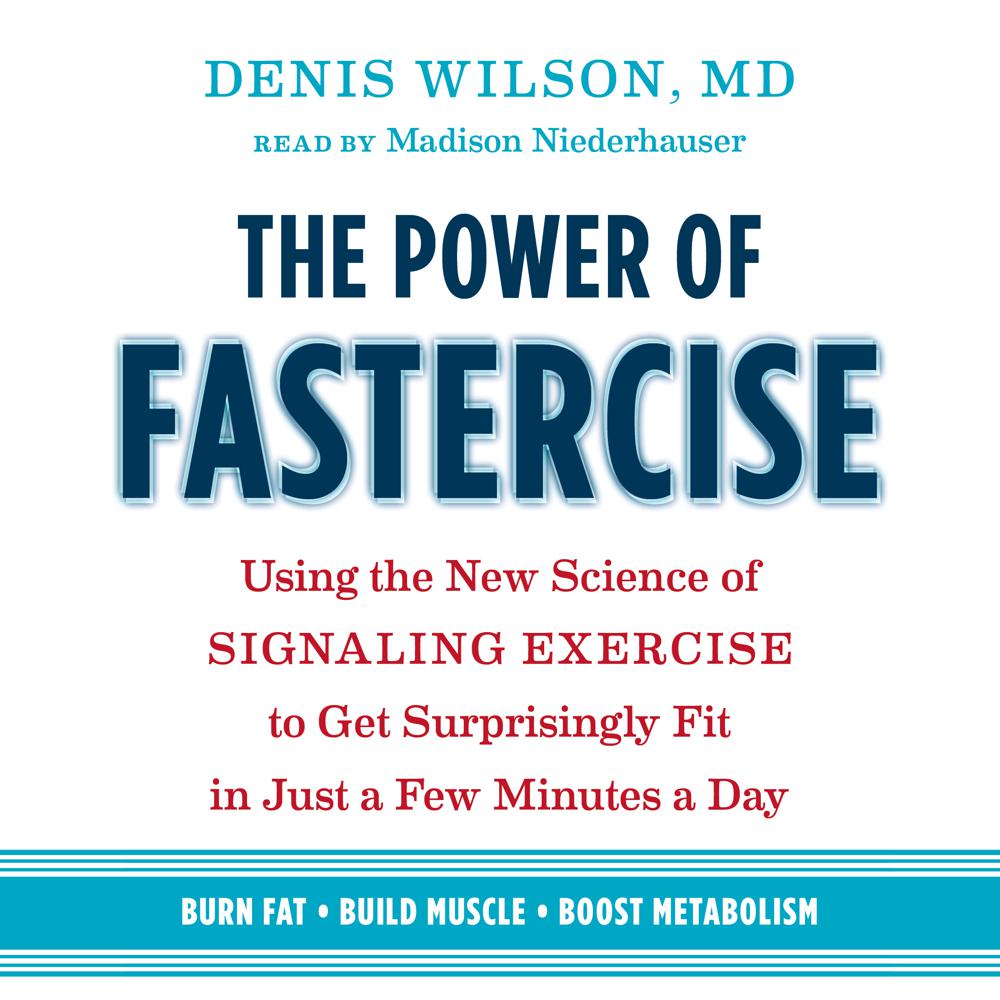 The Power of Fastercise
Author

Denis Wilson

Narrator

Madison Niederhauser

Publisher

Chelsea Green Publishing

Run Time

8 hours and 5 minutes

Format

x-book®
Listen to a sample
What to expect
A revolutionary program of short burst, high-intensity exercise that uses your body's signals to curb hunger as it burns fat and builds muscle
Over the last 26 years, thyroid pioneer Denis Wilson, MD, has trained thousands of physicians on the crucial relationships between the thyroid system, metabolism, and body temperature. He's heard patients recount their inability to get fit using conventional approaches, and he's understood their frustration. Based on the latest medical research, Dr. Wilson has created fastercise, a revolutionary practice that uses brief, strategically timed bursts of exercise to cancel hunger pangs, allowing people to more easily stick to a healthy eating plan and shift their bodies toward becoming leaner, faster, smarter, stronger, and healthier. Fastercise holds the promise of vindicating and liberating many of those who have struggled to improve their fitness, enabling them to transform their lives and reach their full potential.
By combining simple analogies and clear explanations of the physiology of the body's energy pathways and response to food and exercise, Dr. Wilson reveals how conventional approaches to dieting and weight management can actually fight against the body's priorities and lead to frustration and poor results. Fastercise is a time-efficient, convenient, and natural approach powerfully signals the body to burn fat and build muscle synergistically, leading to surprisingly beneficial and quick results. 
The Power of Fastercise explains how fastercise can help you:
•    Burn fat without going hungry
•    Build your mitochondria to burn more fat and provide greater energy
•    Stimulate muscle growth in just a few minutes a day
•    Shift your body composition to less fat and more muscle
•    Boost your body temperature and metabolic rate
•    Look and feel younger
•    Increase mental focus, learning, and productivity
•    Decrease insulin resistance
•    Decrease inflammation and improve immune function
•    Improve respiratory fitness and athletic performance
•    Get great results with any healthy diet, including low-carb and high-carb 
In this groundbreaking book, Dr. Wilson lays out simple, practical strategies for combining fastercise with smart eating choices. Fastercise can provide excellent results for a wide range of people: seasoned athletes, fitness enthusiasts, and even those who dislike exercising or have physical limitations. Whatever your fitness goals are, fastercise can help you achieve them.
Critics Review
Foreword Reviews—

"The writing is persuasive and energetic, and the book's claims are attractive; its concept is so simple that you can Fastercise while reading the book.

Those looking for a low-impact path to fitness and fat loss will appreciate The Power of Fastercise." 

"In this informative and valuable book, Dr. Denis Wilson explains the details of his fastercise framework of quick muscle activity, which provides the potential for a wide range of people to lose weight, build muscle, and boost metabolism."—Dr. Kevin Spelman, CEO, Health, Education, and Research in Botanical Medicine

"Denis Wilson is a deep thinker who pays tremendous attention to detail. In The Power of Fastercise, he opens our minds to a new understanding of how the individual elements of metabolism come together to play a symphony––and gives us the wisdom to have it play the tune that we like. If you are interested to understand your body better––or just want a simple but profound plan of action to reach your weight and health goals––then this book is a must-read."—Gerrie Lindeque, MD, founder, Made to Be Well

"Dr. Denis Wilson led a renegade overhaul of the medical approach to treating thyroid imbalances, pioneering his effective clinical protocol known as Wilson's temperature syndrome. Now this innovative thinker has done it again with his logical and surprisingly simple approach to losing body fat and building muscle. Wilson's message in The Power of Fastercise is clear, his reasoning flawless, and his guidance is sure to help readers follow these easy guidelines to restoring or achieving a healthy weight."—Dr. Jill Stansbury, author of Herbal Formularies for Health Professionals

"The Power of Fastercise puts forth a new and interesting theory about how small amounts of small and purposefully distributed movements could matter tremendously to our well-being."—Katy Bowman, best-selling author of Move Your DNA

"I have long been an avid follower of Dr. Wilson, and his innovations in thyroid management have informed my own practice since the late 1990s. Dr. Wilson has always been a trailblazer in medicine, a systems thinker, and proponent of whole body-mind-centered therapies. In a world where we are overwhelmed, overfed, and undernourished on all levels of our being, Dr. Wilson has created a simple and convenient way to enhance metabolic flexibility at the cellular level. By retraining our signaling pathways with exercises and concepts that are both ancient and new and for the most part free and accessible by all, Dr. Wilson is once again creating an opportunity to reset what has become increasingly broken in our population, restoring us to optimal health."—Nasha Winters, ND, FABNO, coauthor of The Metabolic Approach to Cancer
More from the same
Subscribe to our newsletter
Sign up to get tailored content recommendations, product updates and info on new releases. Your data is your own: we commit to protect your data and respect your privacy.