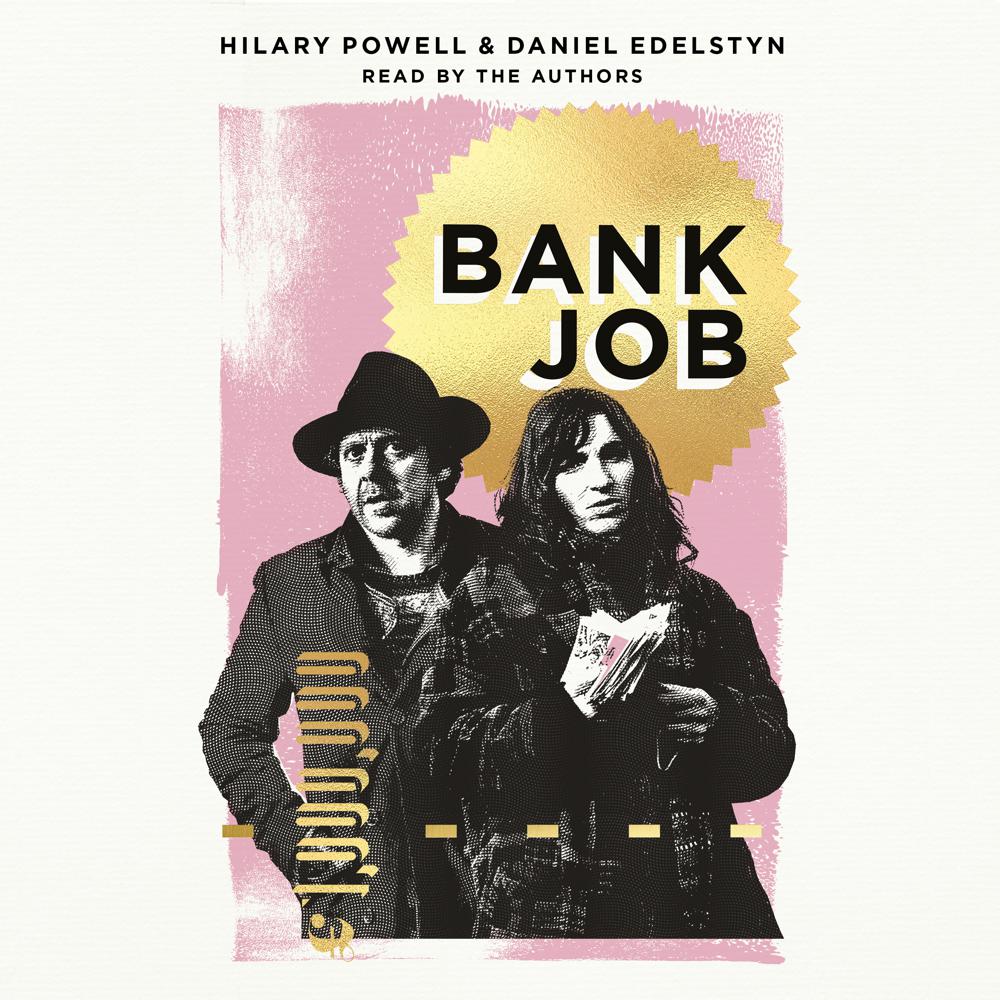 Bank Job
Author

Hilary Powell, Daniel Edelstyn

Narrator

Hilary Powell, Daniel Edelstyn

Publisher

Chelsea Green Publishing

Run Time

5 hours

Format

x-book®
Listen to a sample
What to expect
Art hacks life when two filmmakers launch a project to cancel more than £1m of high-interest debt from their local community.
Bank Job is a white-knuckle ride into the dark heart of our financial system, in which filmmaker and artist duo Hilary Powell and Dan Edelstyn risk their sanity to buy up and abolish debt by printing their own money in a disused bank in Walthamstow, London. Tired of struggling in an economic system that leaves creative people on the fringes, the duo weave a different story, both risky and empowering, of self-education and mutual action. Behind the opaque language and defunct diagrams, they find a system flawed by design but ripe for hacking. This is the inspiring story of how they listen and act upon the widespread desire to change the system to meet the needs of many and not just the few. And for those among us brave enough, they show how we can do this too in our own communities one bank job at a time.
Critics Review
'When art meets finance, "The Big Bang" takes on a whole new meaning. This is brilliant performative protest.'—Kate Raworth, author of Doughnut Economics

'We're all going around feeling something is wrong but it often ends up veering off in reactionary directions. I think this is wonderful because it marshals that sense of unease and builds it into a community and I love the way you are using it to create ties with each other and cancel debt and expose the sheer hypocrisy of the morality of debt.'—David Graeber, anthropologist and author of Bullshit Jobs and Debt: The First 5,000 Years

'Art pirates, debt destroyers and dreamers for a new economy unite! Hilary and Dan show us how the power of creativity can be a catalyst for grassroots activism when we need it the most. This book will be treasured by all those who are convinced that the radical imagination can triumph against capitalism.'—Max Haiven, Canada Research Chair in Culture, Media and Social Justice; author of Revenge Capitalism and Art After Money, Money After Art

'I can't think of any more exciting exposé of the role of debt in blighting people's lives than this book. As the spectre of debt looms over us in all its forms, from personal to sovereign debt, this book couldn't be more timely. As establishment politicians seek to load the economic burden of the pandemic onto people's shoulders across the globe, this exhilarating tale inspires the resistance we desperately need.'—John McDonnell, MP and former Shadow Chancellor

'The UK economy is weighed down by billions of pounds worth of unpayable debt – much of it owed by low-income households struggling to get by. With the COVID-19 pandemic slashing people's incomes – after a decade of wage stagnation – many households are now on the brink of default, even as the government pumps unprecedented sums of money into our financial system. Bank Job is a vivid portrait of the UK's debt crisis, which also answers the question as to what we should do with all this debt: blow it up!'—Grace Blakeley, author of Stolen: How to Save the World from Financialisation

'One of the greatest obstacles to change is our inability to believe in or visualise the world being different. That's where the creative activists and film makers Hilary Powell and Daniel Edelstyn succeed. Their work rips the veil from a banking and financial system which has normalised economic deception and destructive and irresponsible gambling on a vast scale. More than a simple exposé of the ludicrous rewards going to handful of speculators for risking other people's money, Bank Job shows how a community can come together to reimagine the economy to meets their own needs.'—Andrew Simms, author, co-director of New Weather Institute, coordinator of Rapid Transition Alliance
Subscribe to our newsletter
Sign up to get tailored content recommendations, product updates and info on new releases. Your data is your own: we commit to protect your data and respect your privacy.