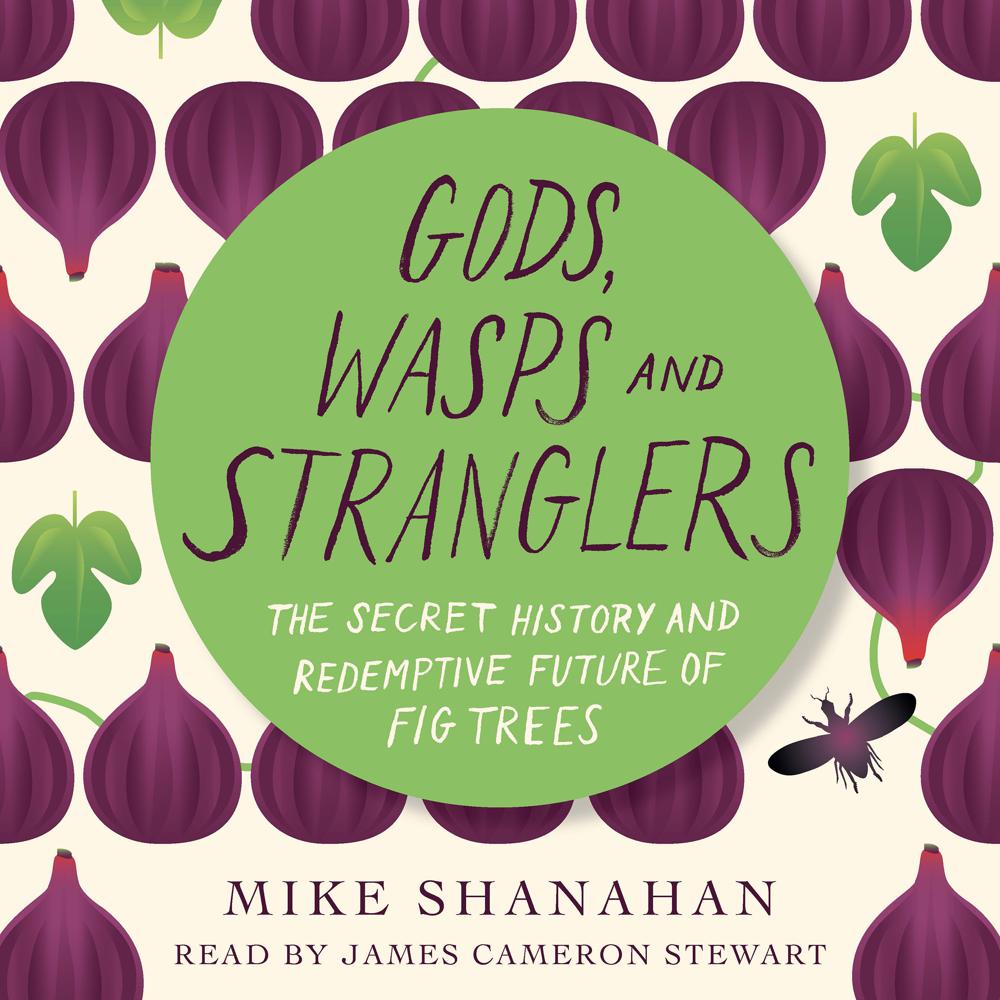 Gods, Wasps and Stranglers
Author

Mike Shanahan

Narrator

James Cameron Stewart

Publisher

Chelsea Green Publishing

Run Time

4 hours and 42 minutes

Format

Audio

Genre

Conservation of the environment, Cookery / food and drink, Ecological science, the Biosphere, Forests and woodland, Social impact of environmental issues, The Earth: natural history: general interest, Trees, wildflowers and plants: general interest, Wildlife: butterflies, other insects and spiders: general interest.
Listen to a sample
What to expect
Over millions of years, fig trees have shaped our world, influenced our evolution, nourished our bodies and fed our imaginations. And as author and ecologist Mike Shanahan proclaims, "The best could be yet to come."
Gods, Wasps and Stranglers weaves together the mythology, history and ecology of one of the world's most fascinating—and diverse—groups of plants, from their starring role in every major religion to their potential to restore rainforests, halt the loss of rare and endangered species and even limit climate change.
In this lively and joyous book, Shanahan recounts the epic journeys of tiny fig wasps, whose eighty-million-year-old relationship with fig trees has helped them sustain more species of birds and mammals than any other trees; the curious habits of fig-dependent rhinoceros hornbills; figs' connection to Krishna and Buddha, Jesus and Muhammad; and even their importance to Kenya's struggle for independence.
Ultimately, Gods, Wasps and Stranglers is a story about humanity's relationship with nature, one that is as relevant to our future as it is to our past. 
Critics Review
"This book concerns the stunningly versatile and ancient family of fig trees now being used as a framework species to restore damaged tropical forests. Figs are not only considered the keystone species in forests but are perhaps the world's most perfect tree—they provide highly nutritious fruits with health-giving and medicinal qualities. They attract birds and animals. They grow very rapidly and produce abundant fruits in a few years. They make shade and shelter, their deep powerful roots can break up compacted soils, they draw up water, they prevent erosion, and they have important spiritual qualities. The tree in the Garden of Eden was very likely not an apple but a fig."–Annie Proulx

"In his insightful book, Gods, Wasps and Stranglers, Mike Shanahan combines poetry and science, history and humanity, to tell a story not only of the fig tree but of life on Earth in all its beautiful and astonishing complexity. In doing so, he reminds us of what a remarkable place we inhabit—and how much we should all want to protect and preserve it."–Deborah Blum, director, Knight Science Journalism Program, MIT; author of The Poisoner's Handbook

"In Gods, Wasps and Stranglers, rainforest ecologist Mike Shanahan charts a lifelong love affair with figs, one that has taken him from India to Kenya, through temples and rainforests, all in search of a deeper understanding of what he describes as 'humanity's relationship with nature.' The fig becomes a tasty lens that reveals not only the fruit's cultural and biological significance but our relationship to that which most deeply nourishes us."–Simran Sethi, author of Bread, Wine, Chocolate

Shelf Awareness, Starred Review-

"Mike Shanahan's Gods, Wasps and Stranglers: The Secret History and Redemptive Future of Fig Trees is a deceptively brief account of the Ficus genus of trees in history, emphasizing but not limited to their relationship with humans. Shanahan brings the expertise of decades of ecological fieldwork and a bubbling enthusiasm to a topic clearly close to his heart. He makes a strong argument that his readers should be attuned to and excited about fig trees, too. The plant figures into the origin stories of cultures all over the world. Fig trees have provided food, shelter, medicine and materials to humans for as long as humans have existed: figs predate us by nearly 80 million years. Because of their contributions as keystone species in ecosystems around the world, figs offer distinctive services in reforestation efforts and the mitigation of climate change. They have contributed to the theory of evolution, the birth of agriculture and possibly humans' development of opposable thumbs. The story of the fig is inseparable from that of fig wasps, numerous tiny insect species that have evolved to pair respectively in symbiosis with individual species of fig. Shanahan relates all this and more in a joyous voice with occasional lyricism, as when 'the Buddhist monk's robe sang out loud saffron over the rainforest's muffled tones of brown and green and grey.' Mythology, biology and hope for the future combine in this highly accessible story of the family of fig trees, with its profound ecological relevance.  A joyful, celebratory world history of the fig tree and its ecological impact."

"A real labour of love, concisely and elegantly told."–Fred Pearce, author; environmental consultant for New Scientist

Choice Reviews-

"Fig trees are found throughout the tropical world with over 800 species in the genus Ficus. Many figs have an elaborate pollination system in which tiny wasps mate inside of the fruit. This book considers the biology, ecology, natural history, and the historical/cultural importance of this interesting plant. An especially fascinating aspect of fig trees is that they are utilized in forest restoration efforts. For example, in Central America and Africa, scientists have planted mature fig tree branches to use as 'instant trees' in deforested areas. The fig trees attract animals and promote biodiversity in the immediate area. The author highlights how edible figs have been discovered in archaeological sites that date back to 13,000 years ago. The author also devotes several chapters to specific historical eras and notes that in the Bible, Adam and Eve used fig leaves to serve as clothing. The book contains many fine-quality line drawings to illustrate principles, such as how a wasp enters a fig and the natural variation in the morphology of figs. Summing Up: Recommended. All readers."
More from the same
Subscribe to our newsletter
Sign up to get tailored content recommendations, product updates and info on new releases. Your data is your own: we commit to protect your data and respect your privacy.