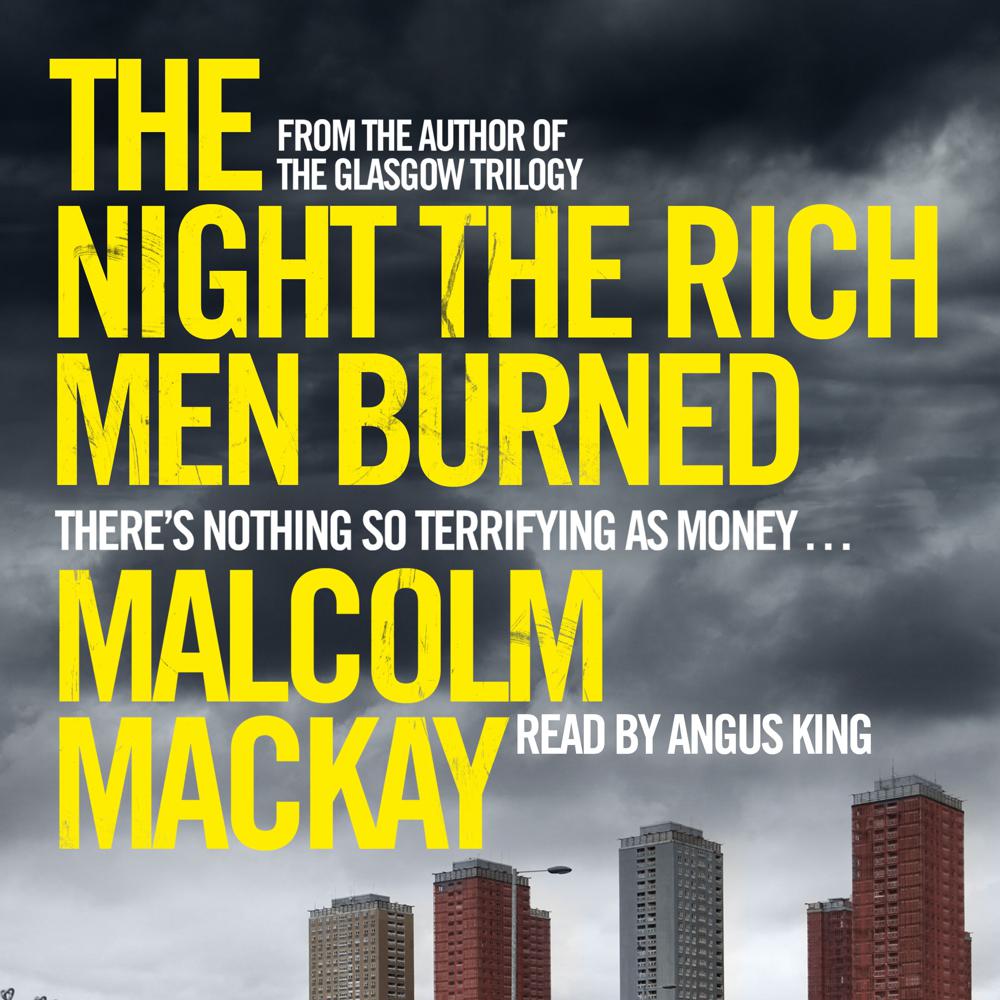 The Night the Rich Men Burned
Author

Malcolm Mackay

Narrator

Angus King

Publisher

Pan Macmillan

Run Time

11 hours and 58 minutes

Format

Audio
Listen to a sample
What to expect
Longlisted for the CWA Steel Dagger for Best Thriller 2015.
There's nothing so terrifying as money . . .
Two friends, Alex Glass and Oliver Peterkinney, look for work and for escape from their lives spent growing up on Glasgow's most desperate fringes. Soon they will become involved in one of the city's darkest and most dangerous trades. But while one rises quickly up the ranks, the other will fall prey to the industry's addictive lifestyle and ever-spiralling debts.
Meanwhile, the three most powerful rivals in the business – Marty Jones, ruthless pimp; Potty Cruickshank, member of the old guard; and Billy Patterson, brutal newcomer – vie for prominence. And now Peterkinney, young and darkly ambitious, is beginning to make himself known . . .
Before long, violence will spill out onto the streets, as those at the top make deadly attempts to out-manoeuvre one another for a bigger share of the spoils. Peterkinney and Glass will find themselves at the very centre of this war; and as the pressure builds, each will find their actions – and inactions – coming back to haunt them. But it is those they love who will suffer most . . .
From the award-winning author of the Glasgow Trilogy, The Night the Rich Men Burned is a novel for our times, and Malcolm Mackay's most ambitious work to date.
Critics Review
Malcolm Mackay's writing rings true . . . [he] is quite unlike the general run of writers of Tartan Noir. Indeed he is quite unlike most crime writers . . . He writes with authority, and this is what makes his novels compelling . . . Mackay's underworld is convincing . . . Mackay writes with such assurance that he makes it credible . . . Mackay's achievement is to have created a credible world of his own . . . He is a very unusual writer, one who skilfully gives the impression that he is without illusions about how people think and act.

Scotsman

For his Glasgow trilogy, Malcolm Mackay accumulated praise and awards rarely accorded to a new crime writer, all the more astonishing for an author who has rarely ventured into the city that he describes with such vigour. Can he keep it up? His fourth novel, The Night the Rich Men Burned, says yes. Different characters and more intricate storylines than the books of the trilogy, but recognisably the same terrain. Mackay has created his own world of Glasgow gangsterism, and within it two friends try to set up an empire of debt collectors that is not to the liking of the existing operators.

Sunday Times

Hailed as the rising star of Tartan Noir, this is Mackay's much anticipated follow-up to his critically acclaimed Glasgow Trilogy . . . Mackay captures the helplessness of a recession-ravaged industrial city.

Sunday Express

Malcolm Mackay has only been a published crime writer since June last year but his Glasgow Trilogy attracted the sort of acclaim normally reserved for far more experienced novelists. Fans of the trilogy will be relieved to know that The Night the Rich Men Burned – Mackay's fourth novel and the first to stand alone – does not stray far from the already tried and tested formula . . . [It is] a fast-paced read, combining an enjoyably voyeuristic insight to the violent world of these gangsters with enough of a focus on their lives and motivations to make them if not likeable at least understandable. Mackay's description of his chosen setting is superb . . . the characters are well thought out and believable . . . the huge number of fans Malcolm Mackay has garnered since his first release 14 months ago is unlikely to be disappointed.

Daily Express

Mackay's writing is shot through with grim poetry. Mackay doesn't waste words on elaborate topographical descriptions, or detailed accounts of the weather. We are hardly aware if it is hot or cold; we are not even sure, at times, if it is night or day. All that matters are the words and actions of his cast. The actors are almost entirely male and, with rare exceptions, they are flawed but potentially violent wasters who prey on the weaknesses of society's natural victims. Make no mistake. If this is theatre, it is the theatre of cruelty. You will not finish this book and feel better about the human condition. It is an emotionally exhausting read, and contains many of the elements of classical tragedy – the continuity of place, the fatal coincidences, and the vaulting ambition of powerful men. There were strong hints of Mackay's skill as a writer in his Glasgow Trilogy and you can read our reviews of books one, two and three by following the links. But this is on a different level altogether. It is a harrowing, but quite brilliant tour de force.

Crime Fiction Lover

The Night the Rich Men Burned is the fourth novel from Tartan Noir's relative newcomer and like a stick of gangland rock, there is 'villainy' written through every page of his remarkably authentic and brutal crime thrillers. After the highly-acclaimed Glasgow Trilogy, some feared that there were no back street stones left unturned in the impressive Mr Mackay's violent, signature underworld, but his new standalone novel offers the same uncompromising slice of the big city's twilight zone. The Night the Rich Men Burned is not just a tale of time and place but a salutary portrait of people living on the margins of ordinary life, those born with little hope and low expectation who either walk a punishing straight line or take the crooked turn to fast money and rampant thuggery. Mackay has an astonishing grip on the criminal psyche, providing a brief but enlightening character study of his grisly cast of cons before the story even begins. And be warned… these bad guys are unrelentingly brutal, the few good guys are pitifully powerless, the tension is knife-edged and the uncompromising violence is as painful as a punch in the solar plexus. This is the dark side of Glasgow that lurked behind the smiles of the Commonwealth Games… Mackay ensures we don't forget it's there.

Lancashire Evening Post
More from the same
Narrator
Subscribe to our newsletter
Sign up to get tailored content recommendations, product updates and info on new releases. Your data is your own: we commit to protect your data and respect your privacy.